> The place
Mouans Sartoux is a town of 8000 inhabitants around of Nice. Particularly known for its numerous cultural activities, it sometimes attracts 20000 visitors.
One of these meetings is the Printemps Musical, this is the 9th edition this year. The event consists in converting the town center in about fifteen scenes where fifty groups play music during the evening. Distant of one dozens metres each, scenes form a route where the visitors can easily choose and discover the groups. The nearness is cunningly managed so that the groups are not ashamed. If the rock is mainly represented, the other numerous musical tendencies are present.
Once again, the organizers (l'OMAJ ) made well things: stands of good size and place settings, a meal between groups... And with the slogan " Neither drug, nor alcohol, nor violence, just musical spring ", everything was made so that only the pleasure of the music takes it.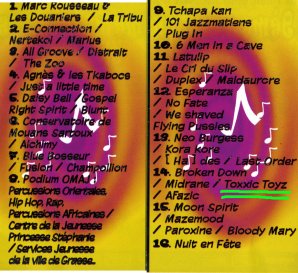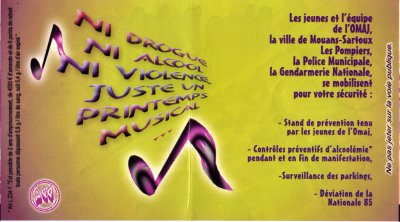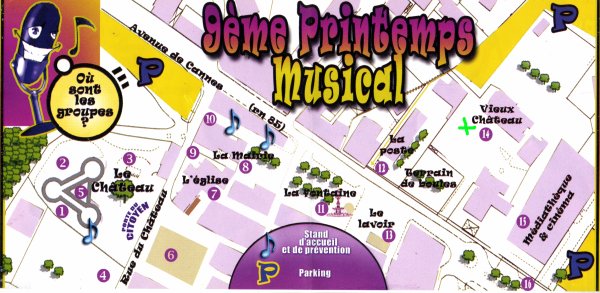 > The weather
An outdoor concert is always dependent on the weather report. The bet was uncertain seen the torentielle rain which fell in the afternoon. Fortunately, the weather report of Météo-France was right, the evening was brightened up.
> The public
The public is very contrasted but if you want to know if the public hard rock still exists, come to this festival, listen to, look, asking the question " you listen to of the hard rock? " to the visitors and you will be amazed.
> The preparations
Finally a correct space to settle down, finally a duration of deserving balance. Thank you special one to Jérémy (drummer of the group Midrane) who made an exceptional job for the installation of the stand as well as during the concert, and which regrettably the group was not able to play completely because of a problem of timing.
> The concert
The concert was very good! Finally a scene where the group had a little place and where the members could be cool, attracting a public at once seduced.
For a few weeks, the group make the pressure with the announcement of two new songs and they had envisaged of played this concert. They did it, and frankly, that impresses! These two new songs are of an original construction and go very far.
They played 9 songs, it was really heavy and speed. It was super to see the heads moved around us.
Suspense, the public failed to be private last piece bus during the Arvi concert broke the cords of its two guitars. Courageously it finished the concert on the second guitar of Fred!
Small detail, the stand being in a course largely open, the public could place way of having a back angle on the scene and thus of seeing Rick in full action on its drums. Usually, these point of vue is impossible to have, and it is very impressive considering the level and released energy.
Come many to the next concerts, that is worth displacement!!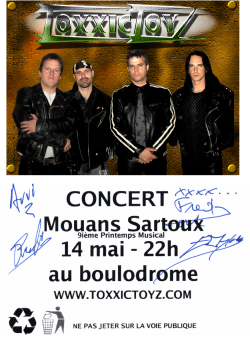 Soon photographs and perhaps video ...